The latest jihadi attacks in Paris seem to have shocked and surprised politicians, while they have only saddened us on the right and made us more frustrated that nobody is really laying down the (required) law in our own countries, never mind in anybody else's.
I suggest, for example, that the time has come for open surveillance of all mosques, by order of government. Video cameras, recording equipment in all, regardless of what any "imams" might think. This is merely to help ensure our mortal survival and does not even move towards informing these people that a cultural de-Islamisation of British cities will also occur in time.
There is so much that needs to be done, but it would be a start - at least - for the truth to be allowed to be told. The truth about Islam, the death cult. We need to be allowed to stop pussyfooting around in fear of losing our jobs, for example. I am unsettled every time I see a hijab-wearing Muslim, and I see them every day even in the Royal Borough of Windsor. There is a college here where a mixture of delinquents who look as though they can hardly spell, and Muslims, come to study "fashion" and other such idiotic and useless subjects. I am unsettled because the Islamic garb is indicative of a very stupid and primitive mindset, worse even to my mind than the thick popular culture which is in contradiction with it, and yet which these people often manage to simultaneously embrace.
Indeed, I remember when I saw Muslims in the UK even as a teenager I was concerned that this was out of place and would lead to trouble as numbers grew. You didn't have to be a rocket scientist: primitive, pre-Englightenment, views, strongly held, plus a much higher birth-rate (on benefits) equals serious social and economic problems further down the road. This was in the 1980s, around the time that
Ray Honeyford was witch-hunted
for expressing similar concerns, so it is not surprising I was nearly suspended from school for airing my concern on one occasion. Yet even a child could see the danger that is now a vivid reality.
This latest attacks in Paris raise a number of questions, to my mind. One, as I have touched upon, is whether this alters the climate at all with regard to truth being allowed to be told. Are we allowed to say that Islam is idiotic and has no place in the West? I am afraid probably not. Say you are working in Barclays as a cashier, and you say this. You've got a hijab wearing Muslim next to you as your colleague. She brings up the topic, you say you find the doctrines of Islam stupid and offensive and they have no place in the West. She'll report you, as was the case in Nazi Germany. She can still expect you to be disciplined, I think, by Vichy managers. So it will take even more.
Next, what is our ultimate aim? I think it is the total removal of Islam from the West, as stated by Paul Weston and Geert Wilders. I think anybody who does not say this is just running behind on the matter. Islam is a death cult that was headed by a homicidal maniac, who was either a liar or schizophrenic. I don't care if the Muslims are "moderate" or not. As is often said, there were a lot of moderate Nazis.
Thus I would like to see Muslims made to feel they are not welcome in the UK. Because, frankly, they're not. We never wanted our cities
transformed into Islamic ghettos
- this has been a disaster. We never wanted Urdu heard instead of English. We didn't mind a few immigrants filtering in and assimilating, but we never wanted to be outnumbered in our own country. So get out. This is not a country you can Islamise.
But now we come to real-politik, which I have
explicitly raised before
. In
this essay
:
Theodore Dalrymple wrote:Spencer is scathing of western intellectuals' failure to examine Islam and its founder in the same light as they would examine any other religious doctrine of comparable importance. The task of politicians, on the other hand, is more delicate than he suggests; they do not move in a world of abstractions but of concrete realities, and truth is only one of the things they must try to conserve. The responsibility of intellectuals is thus in some ways greater than that of politicians.
I'm wondering if the last sentence is supposed to be the other way around: intellectuals can state whatever truths they like (if they are prepared to risk being killed by Muslims), but politicians are in the hot seat. If I was David Cameron I would have a lot of things on my mind. I would want a lot of projections from my police and military commanders, about likely results of me trying to crack down on Islam. Both the domestic and the foreign effects:
What would be the effect of closing down mosques, for example, or banning halal?
Could rioting be contained?
Do we have sufficient army to put on streets to protect the UK?
What would be the likely view of Saudi Arabia if we put the brakes on their mosque building in our country or crack down on Muslims here?
What would the economic and security dangers of our alienation from those nations?
I would also begin to look at putting millions of pounds aside for the building of new prisons or internment camps to contain hostile Muslims (a disproportionate amount are of course in our standard prisons at the moment, but as the war with Islam escalates and as we try to reclaim our country we will need larger facilities). It is unlikely any such large scale projects (as with re-armament) would be possible to conduct clandestinely, so government might need to be open about the matter.
This will earn the wrath and concern of many grievance-mongers. Muslims, of course, but also Liberty (not Liberty GB!), Human Rights Watch and all the other phoney rights groups who do not understand Islam or do not care about the transformation of West against the will of its native people. If a single Muslim was injured, even as a result of their own behaviour, you can imagine what these people would say. (Indeed look what the Left are saying even as France bombs ISIS in Raqqa - they cannot understand the principle of utilitarianism nor distinguish between inevitable collateral damage and the deliberate and sadistic murder of civilians.)
Since in the 1970s and 80s leaders ignored people such as Ray Honeyford and Enoch Powell, when it would have been much easier, reaching the goal of removing Islam from the UK is now going to be very difficult. We can talk as much as we like on Internet forums and on Twitter (and I've been hitting it hard on Twitter recently) but real-politik is another matter.
When considering the removal of Islam from the West, there is for example the question of where the Muslims are going to go. Internment camps temporarily, perhaps, but where after that? We can have them renounce Islam, but taqiya allows the lying over this. Muslims would need to be repatriated to their (Islamic) countries of origin. Deals would need to be struck with those countries to actually accept them. Those with either houses or welfare here would be highly resentful. Can we even visualise this happening?
There is also the question of to what degree we should be taking the war to ISIS in Syria. This is something about which I am somewhat undecided. My primary concern is the removal of Islam from our country, but on the other hand if IS gets nukes, or if indeed it becomes dominant in multiple countries, that is very much our problem, too.
I think this whole matter needs discussion, as to whether is even feasible to remove Islam from the West by force or whether instead there much just be extremely harsh punishment for every Muslim transgression, and we must otherwise simply wait for better ideas to win out against Islam and for Muslims to reform themselves, i.e. for them to abandon their supremacist and primitive "religion". It takes some optimism to believe in this though, as Muslims continue to have many more children than non-Muslims and each is indoctrinated from birth with a creed which punishes apostasy by death. If Muslims have not reformed themselves as demographic tipping point approaches, then force will be the only option by which Europeans can reclaim their countries.
This attacks in Paris are another ratcheting up, which we all expected, anyway, especially after European leaders such as Merkel encouraged as many more Muslims as they could into their countries. It would seem to assure right wing political victories in future, even while we still see inane, sentimental, tweets from the Left. They are not equipped to deal with the threat civilisation faces so need to be ignored.
Slowly the climate seems to be changing. There must be a new and tangible awkwardness and tension between Muslims and non-Muslims in cities across Europe now, a tightening, maybe even some left-liberals converted, snapped out of the Matrix. In the points raised above I invite discussion of what can actually practically be done to de-Islamise countries which previously each had their own non-Muslim characters and were much safer, more attractive and more cohesive places in which to live.
Site Admin
Posts: 3432
Joined: 27 Jul 2011, 18:13
Location: Once Great Britain
---
In addition to the above, I should add that another possibility is that there is eventually civil conflict and such a conflagration that matters take care of themselves.

This is the scenario whereby Europeans' patience is tried beyond breaking point (either due to further Islamisation or a successful massive attack) and, as a result, Muslims are killed and simply terrorised out the country and out of Europe: a full-blown ethnic civil war whereby Europeans reclaim their countries (but at considerable cost in lives and suffering, no doubt).

In this scenario the government would not have tried to do anything about the Muslim problem. It would be in the position of having to try to quell the situation. Martial law would be imposed and it seems to me there might be a coup, certainly of the conservative party and possibly a military coup - even in the UK - as old school top brass (not traitors) decide to disobey politicians and to assist in the removal of Islam. These are apocalyptic visions which would, or will, change Europe and the state of the world completely, but they don't seem to be totally implausible and are an endgame we have previously discussed on this forum.
Site Admin
Posts: 3432
Joined: 27 Jul 2011, 18:13
Location: Once Great Britain
---
Posts: 81
Joined: 02 Aug 2011, 11:43
---
It's a shame to see Theresa May say this. She's supposed to be a Christian. Perhaps she was under orders from Dave, because he's said it enough?!
If not, there are only two options:
Politicians think that if they say this then Muslims will believe them and stop with the jihad.
They genuinely don't know what the Qur'an says and therefore what we in the West are up against.
Rather makes you long for this moment.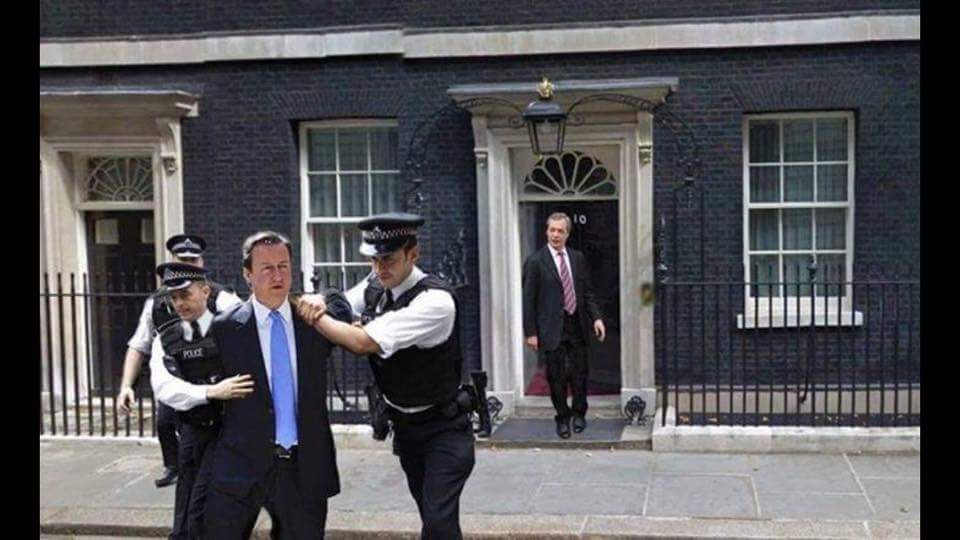 Site Admin
Posts: 3432
Joined: 27 Jul 2011, 18:13
Location: Once Great Britain
---
This latest attacks in Paris raise a number of questions, to my mind. One, as I have touched upon, is whether this alters the climate at all with regard to truth being allowed to be told.
I think it will only replace one official lie (the attacks have nothing to do with Islam) with another one (a miniscule minority is hijacking Islam). The solution will be to 'vet' incoming refugees, or to 'rehabilitate' ISIS veterans. In other words, to do nothing. Economic migrants have been hoodwinking naive and altruistic social workers for decades when posing as refugees. ISIS veterans will know perfectly well how to mouth the proper I-have-been-de-radicalized formulas. Their examiners are more afraid of losing their jobs to a racial grievance claim than they are of being imprisoned.
There are, in fact, two different dangers here: The long-term demographic danger, and the short-term terrorist threat. These attacks will focus attention on the second threat, while ignoring the first one, which is much more dangerous. If the first threat were contained, the second would be manageable.
I think the solution is first and foremost to reform the immigration policy.
1) No new immigrants except on an individual basis. Anyone convicted of illegal entry will be deported. People who refuse to divulge their country of origin (if it cannot be deduced from their accent) to be sent to somewhere very unpleasant - in practice the threat will be enough to learn where they came from.
2) Cease giving benefits for the first 7 years after arrival, including unemployment, housing, etc. Medical care can be given, but not completely free at the point of delivery - nominal fee at the least. No voting rights either. Something like the US green card system - you are not a citizen yet, don't expect all the benefits of citizenship.
These two steps will stop further immigration to a trickle. It will also encourage recent arrivals, who have no firm roots in the country just yet, to seek another home. It will not do anything to solve the problem of unassimilated second and third-generation radicals. For these, you need:
3) A cultural revival, or renaissance.
The third point is the most difficult one. It is something which is lacking in every western man's heart. Let me explain by an example from your own words.
Say you are working in Barclays as a cashier, and you say this. You've got a hijab wearing Muslim next to you as your colleague. She brings up the topic, you say ...
Why do you not speak to her of Christ's love? I know why - it's a rhetorical question. But why don't you give her a booklet with a couple of Shakespeare's plays? How about a booklet of English poetry? A guide to proper pronounciation? The Trafalgar Companion? The complete collection of Yes, Minister?
The missionary work and cultural influence only flows one way, and that's the problem. It's the problem everywhere in Europe - the West is always on the moral and cultural defensive, and all the muslims get is the dregs of Western culture, which makes them despise us all the more.
What would be the effect of closing down mosques, for example, or banning halal?
If part of a concerted effort to stop immigration, deport muslim criminals, and crack down on terrorism, it would be seen as a symbol of determination. If done as a substitute for these, it would be an admission of weakness. In either case, it will raise many objections from your own side. It will not make anyone leave - the mosques will go underground, and Halal restrictions will be ignored or circumvented. I think it will be counter-productive.
Could rioting be contained?
Do we have sufficient army to put on streets to protect the UK?
An interesting question. Judging from France's reaction - absolutely not. The papers have been making a fuss over 1,500 soldiers patrolling a city of 2 million. Those soldiers are probably horribly outnumbered by AK47-wielding muslims in the Banlieues around Paris. In England, if you try to spread the army too thin, you'll just wind up making targets. You need an infantry division to concentrate on each neighborhood in turn and comb through it, kill terrorists who want to fight, and confiscate weaponry. An Operation like Defensive Shield in 2001. This is only useful of you've sealed the borders, which they haven't.
What would be the likely view of Saudi Arabia if we put the brakes on their mosque building in our country or crack down on Muslims here?
What would the economic and security dangers of our alienation from those nations?

Saudi Arabia will talk, and do nothing. Maybe do an oil embargo, which Britain can circumvent in a thousand ways. European nations will condemn excessive use of force. The dangers are -
1) Internal - government may fall to a no-confidence vote, protests by Englishmen who think you're making a horrible mistake will undermine morale. Economic downturn will create dissatisfaction.
2) External - Jihadis will flock to Britain to fight you. Local Jihadis will organize themselves to carry out terrorist attacks. British tourists and ex-patriates will become targets all over the world.
Of course, there are greater risks than these, for example, if local militias start fighting each other for control of towns and roads, while the government forces gaze down loftily from their moral high ground and do nothing.
It's remarkable how many parallels there are with Israel's struggles. Or maybe it's just my perspective which is skewing things. These bombings in France are much like the early terrorist attacks against Israel in the 70's (e.g. maalot), before the state had gotten used to dealing with these things. Closing the borders is just Israel's security fence. A purge of Islamic hotbeds would be Operation Defensive Shield. Leaving the Banlieues to fester is sort of like Israel's withdrawal from the Gaza strip in 2005. The endless immigration is like yielding to the Palestinians' claim to a right of return - fortunately, no Israeli PM was mad enough to try
that
. The fate awaiting Europe at this rate is like the Christian Arabs in the occupied territories - slow, relentless pressure by the muslims drove them out (Bethlehem was 85% Christian in 1948, according to wiki). Alternatively, it might be like Lebanon's Christian community - loss of lives, power, and population (to emigration) after a 15-year civil war.
Posts: 411
Joined: 03 Aug 2011, 05:14
Location: Israel
---
Thanks for your thoughtful reply, Jonathan. I think you are right to identify those two distinct threats, and make a good point that we should be offering both carrot and stick. We should have boldly promoted the best elements of the culture of their adopted country to Muslims (and to natives for that matter) ever since they arrived. As Dalrymple also points out, the Islamisation has only really been able to happen at all because of western decadence.
If there were any state-guided effort to promote our own culture and history in particular now, though, this would doubtless be called racist. With native English children now forming a minority in many classrooms, it would be said that all cultures are equal and it is not fair on the Pakistanis or Africans not to give their cultures and histories equal emphasis. In the same way it's fine for Pakistanis, for example, to say they are British (when it suits them) but to support Pakistan at sporting events. Likewise for Muslims here to say they're British when it suits them - but when British action (or even inaction) might conceivably conflict Muslim interests anywhere in the world, they will vehemently object.
They have torn allegiance and I think Nigel Farage is right that they have to choose right now "between the UK or their religion". Most people would just want them out, though. They don't want the UK Islamised and they never wanted it Islamised. I don't mind saying that openly now.
Interesting post anyway, thanks. I will give it some more thought, too. Since Israel and Europe are both now being attacked by Muslims we are certainly to some degree in the same predicament. Yours worse because so many hostile Muslims are so local, ours perhaps in the sense that so many hostile Muslims are actually already
inside
our countries thanks to our leaders.
Site Admin
Posts: 3432
Joined: 27 Jul 2011, 18:13
Location: Once Great Britain
---
---
Return to Multiculturalism & Immigration
Who is online
Users browsing this forum: No registered users and 5 guests