The graphic below, which was linked to by Steve
Sailer
recently, shows a list of popular Google auto-complete suggestions from China.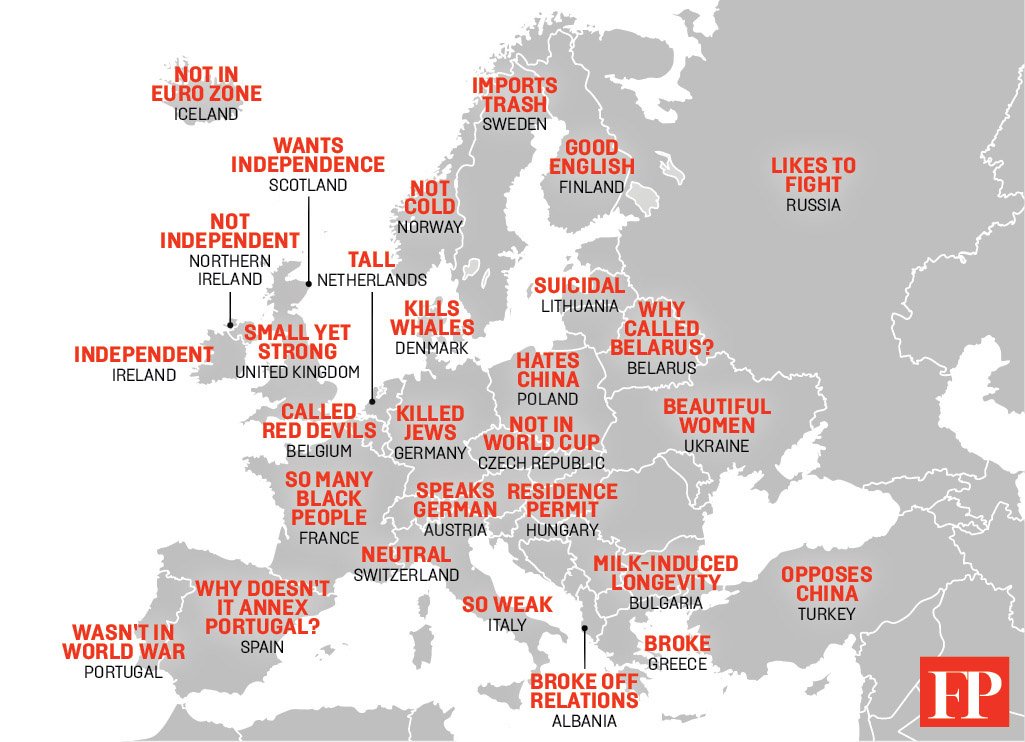 Of particular note, I think, are the French and Swedish auto-complete suggestions. Or, as one commenter underneath the Sailer blogpost remarked:
Note to Sweden and France:

When the citizens of a foreign country recognizes how suicidal your immigration policies are, it might be time for a change.
Posts: 435
Joined: 13 Jan 2013, 19:43
---
Nice, that's really interesting!

For all the negativity some of us have about the state of our country the UK is one of the few countries that they seem to have a positive opinion of!

It gives an interesting insight into how the Chinese mind works as well. Is the first thing they think about Spain really why it doesn't annex Portugal? And why shouldn't Belarus be called Belarus? I assume the Chinese word for Belarus must translate as "White Russia" like in a lot of other languages.

And I always thought it was Norwegians who killed whales rather than Danes. A Norwegian friend of mine once had a T-shirt that read "Save the whales. Kill a Norwegian." :p
Posts: 880
Joined: 08 Dec 2012, 17:58
---
As far as Scandinavians are concerned, I've always found it amusing how they tease each other!
As for Chinese stereotypes: I noticed during my time at university that many of the Chinese students were fascinated by France, Paris and the French language. In particular, it was obvious that
la Ville Lumière
, to the Chinese, was a city full of stylish, good-looking white people.
I guess, then, that Chinese tourists have been noticing
le déplacement
taking place.
When it comes to Chinese attitudes towards Spain and Portugal, I think it's quite amusing and instructive to flip it around, since there is a fairly noticeable Chinese presence in Spain. When I lived there, no Spaniard was ever able to explain satisfactorily why so many Chinese had been allowed in to run corner shops (I was told that the Chinese apparently had some neat rental deal with the Spanish government), but this phenomenon had led to a noticeable dislike and resentment towards the Chinese among some sectors of Spanish society.
Spanish attitudes towards the Chinese tended to vary wildly, though: on the one hand, China was (and probably still is) the go-to location for Spaniards wanting to adopt children. On the other hand, as I said above, many Spanish people I met would openly insult the Chinese and describe them in the most racist manner possible, so there was definitely a lot of strong ingroup/outgroup distrust there, too, which, I imagine, one would be much less likely to see in NW Europe.
Posts: 435
Joined: 13 Jan 2013, 19:43
---
---
Return to Multiculturalism & Immigration
Who is online
Users browsing this forum: No registered users and 3 guests